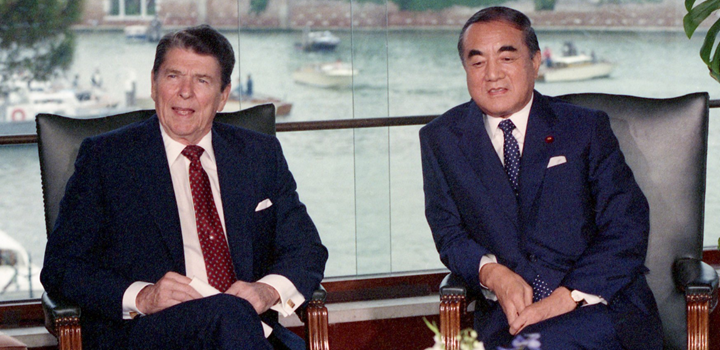 President Trump's current trade policies appear like the Reagan administration's protectionist trade policies back in the 1980s. In comparison to the previous target of Japan back in the 1980s, the current target is China that causes large perennial U.S. trade deficits nowadays.
In the 1980s, President Reagan and Republican senators worried about the sharp increases in U.S. trade deficits with Japan and its aggressive entry into particular industries where America used to dominate in history. The Reagan administration focused on automobiles, steel exports, and semiconductors. The 1980s trade war involved a specific taxonomy of tariffs, quotas, and even embargoes on Japanese companies in these fields. Eventually, the 1980s trade policies led to the Reagan administration's inability to tame trade deficit growth. In fact, the U.S. trade deficit exacerbated from $36 billion or 1.3% of total GDP in 1980 to $170 billion or 3.7% of total GDP in 1989. Not only did the Reagan tariffs and quotas fail to deliver high economic growth in the aftermath of the 1987 stock market crash, these measures constrained economic output expansion from trickling down to benefit the typical American.
Several economic lessons emerge from this historical context. First, erecting trade barriers may not necessarily shrink the current U.S. trade deficit. These tariffs and quotas may or may not reverse the current Sino-American trade dilemma. Second, U.S. consumers, households, and companies may end up paying higher prices for intermediate goods and services in the specific areas of steel, aluminum, and other tech-savvy intellectual properties. Higher inflation induces the Federal Reserve to accelerate the current interest rate hike that in turn adversely affects U.S. financial market developments. Third, the specific industries such as steel, aluminum, and semiconductor technology may receive little help in light of higher production costs. When China and the European Union lash back with retaliatory tariffs and quotas, some U.S. companies such as Harley Davidson would have no choice but to move production overseas. The resultant decrease in total demand for domestic blue-collar workers may mean an inevitable increase in unemployment in these heavy-metal industries.
This adverse impact may spill over toward American agriculture that relies heavily on its exports to Canada, China, Europe, and Mexico. As history may repeat itself, the law of inadvertent consequences counsels caution.