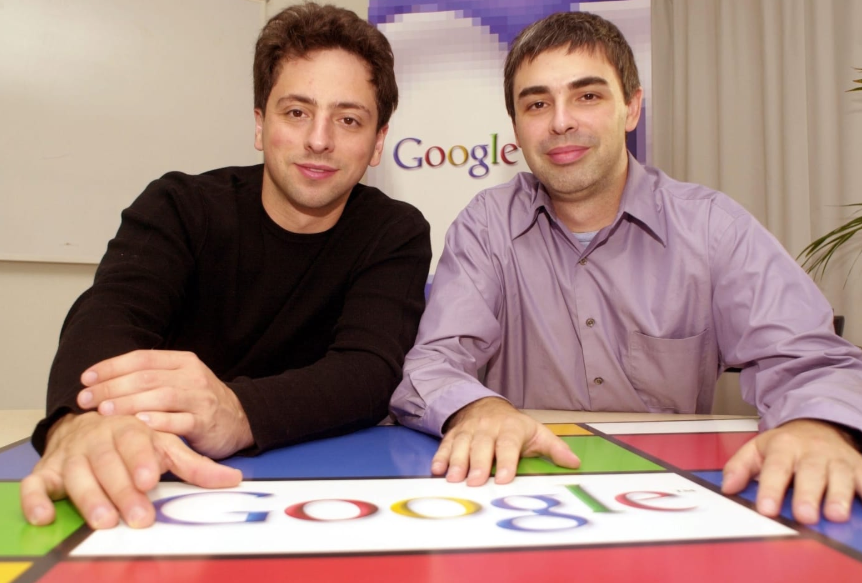 The Stanford computer science overlords Larry Page and Sergey Brin design and develop Google as an Internet search company.
Janet Lowe (2009)
Google speaks: secrets of the great entrepreneurs Sergey Brin and Larry Page
In this big book, the author Janet Lowe weaves a cogent and informative narrative about the personal success stories, events, challenges, trials, and tribulations of Google co-founders and entrepreneurs Sergey Brin and Larry Page. With the bold vision to change the world, Brin and Page pull together conscious team efforts to incubate their Internet search company Google. Over the years, Google taps into many relevant tech fields via mergers and acquisitions (such as Android, YouTube, DoubleClick, reCAPTCHA, eBook, Motorola, Waze, and DeepMind). These fields include the modern mobile operating system, video, online advertisement, cloud storage, big data, natural language, voice recognition, facial recognition, artificial intelligence, cybersecurity, geographic navigation, and so on. In building the online search company, Brin and Page garner the support of others from early investors and venture capitalists to tech-savvy employees, software engineers, and Internet users. As the twin princes of Internet search technology, Google co-founders and entrepreneurs Brin and Page build and transform their multi-billion-dollar business into the most popular online search engine with software services. In combination, these team efforts help enrich the digital lives of all active users worldwide.
In Spring 1995, Larry Page traveled to Stanford University for an orientation visit. During the visit, Page met Sergey Brin for the first time on a Stanford campus tour where Brin was the tour guide. Brin and Page argued about almost every topic that they discussed throughout the tour. Both considered the other somewhat arrogant and obnoxious.
However, Larry Page soon forged friendship with Sergey Brin during their graduate school years at Stanford. Page started developing his Project BackRub to analyze backlinks to a website in a similar way that would measure the impact factor of an academic research article or a patent publication on the main basis of subsequent citations. Brin helped Page with this computer science project in a dorm room. In 1996, Page came up with the idea of using diverse backlinks to web pages to rank their importance. This fresh ingenious idea reflected the fact that a larger number of white-hat backlinks indicated greater user interest in a highly informative website. This unique algorithm would prove to be one of the key reasons for the subsequent success of the Google search engine.
In time, Page renamed the computer project PageRank with a pair of incremental improvements. First, the novel PageRank algorithm treated the number of diverse backlinks as an approximate measure of web domain authority. Second, the new algorithm automated the online search process and then adapted to the substantial number of websites that increased exponentially over time. By analyzing the full structure of the world wide web, PageRank was able to determine the key websites that most users voted be the best sources of online information. These web votes weighed more heavily downstream to help determine the importance of another relevant web page in the pecking order. PageRank would consider more than 500 variables and 3 billion keywords to deliver search results in a fraction of a second.
From 1996 to 1998, Stanford students and faculty members started to use this new search engine. In 1999, both Brin and Page were too busy to finish graduate school and so decided to leave Stanford. In this fashion, Brin and Page became another partnership legend of the likes of Jerry Yang and David Filo of Yahoo, Bill Hewlett and Dave Packard of HP, and Steve Jobs and Steve Wozniak of Apple.
It would be important to acknowledge the close connections between Google and Stanford. Stanford University owned the PageRank online search patent, and then Google paid for this patent in both cash and stock for exclusive license until 2011. Stanford computer science professor David Cheriton introduced Brin and Page to Andy Bechtolsheim, and both men became Google early investors. At Google, the director of technology, Craig Silverstein, was the first tech-savvy employee and a fellow Stanford graduate student. Further, a Stanford faculty member, Ruth Kedar, designed the trademark logo for Google.
Google CEO Eric Schmidt taught business courses part-time at Stanford before Brin and Page founded the Internet search company. Stanford computer science professor Rajeev Montwani was the key PhD advisor to Sergey Brin, and Montwani became a corporate advisor and investor when Brin and Page left Stanford for the greener pastures of Google online search. Professor John Hennessy became the president of Stanford University in 2000, and then served on the board of directors from April 2004 onwards.
Among David Cheriton, Andy Bechtolsheim, and family and friends, Brin and Page cobbled together an initial bankroll of $1 million. In June 1999, venture capital firms Sequoia Capital and Kleiner Perkins Caufield & Byers, John Doerr, and Michael Moritz took their seats on the Google board of directors and then helped Brin and Page find a CEO, Eric Schmidt. Schmidt was the pragmatic force that maintained a delicate balance between Internet search innovation and business growth. As an electrical engineering graduate from Princeton with PhD in computer science from UC Berkeley, Schmidt made several smart business decisions to put Google at the epicenter of almost every important development in web commercialization.
A notable development was Internet search advertisement, which would eventually provide 99% of Google topline revenue. Brin, Page, and their computer scientists contributed to another major breakthrough in disruptive Internet search innovation by connecting Internet advertisement to the most relevant Google search results. Google Adwords empowered advertisers to bid on both the maximum dollars of pay per click and the keywords for ad delivery. These advertisers would follow the Vickery auction system where the highest bidder would pay only a cent more than the second highest bid.
Google went public via a unique IPO with the dual-tier stock ownership structure. Brin, Page, and Schmidt would remain in control of the Internet search company. Each Class B super-voting share received 10 votes for every one vote of a Class A share. By design, hostile takeovers were impossible, and shareholders could not act to challenge any major business decisions. Google shareholders would defer these decisions to the prescient business judgment of Brin, Page, Schmidt, and a few other blockholders and institutional investors. Google IPO stock price was $85 per share, rose up to $100 per share on the actual sale day, and topped out almost $750 per share before the U.S. subprime mortgage crisis and global financial crisis of 2008-2009.
Over the years, Google tapped into many tech fields and uncharted territories via mergers and acquisitions. The key deals included Android, YouTube, DoubleClick, reCAPTCHA, eBook, Motorola, Waze, and DeepMind etc. The core specialty fields encompassed the modern mobile operating system, video, online advertisement, natural language, voice recognition, facial recognition, artificial intelligence, smart data, cybersecurity, geographic navigation, and so forth.
In the Google triumvirate management culture, Eric Schmidt became the CEO to manage the vice presidents, sales teams, and so forth as Larry Page and Sergey Brin became co-presidents to hone the creative side of the online search business with myriad software services. Schmidt handled almost all of the key direct reports, business operations, and investor relations, and Brin and Page had final say on all major business decisions.
In the first Google annual report, Larry Page and Sergey Brin conveyed the primary theme to shareholders that the Google search engine could provide an important online service to deliver relevant information to all active users worldwide. Google aspired to create fast, useful, simple, innovative, universal, profitable, trustworthy, beautiful, and personable Internet search and other software design services. Over the years, Brin, Page, Schmidt, and their teams had to overcome many corporate hurdles, obstacles, and antitrust concerns over copyright, privacy, click fraud, and controversy over Google search results. These challenges confronted Google as it pushed the high-tech and legal envelopes. Fit and proper solutions arose under the triumvirate stewardship of Brin, Page, and Schmidt.
Brin, Page, and Schmidt hold firm faith in their top 10 business principles:
We should focus on the user experience, and everything else will follow.
It is best to specialize in one field extremely well.
It is better to move fast to defy the conventional wisdom.
Internet democracy works well.
Each team member can come up with an answer away from his or her desk.
It is not enough not to be evil, and we actively try to be good.
There is always more information out there.
The essential need for information crosses all borders.
Each team member can be serious without wearing a suit.
Great sometimes is not good enough.
Brin, Page, and Schmidt trust themselves and follow their creative ideas of Internet search engine optimization. Great intellectual curiosity empowers the trio to delve into their fresh intuition and inner voice. In practice, Brin and Page are bold Internet co-founders and entrepreneurs, sometimes in a brash way and sometimes in a genteel way. In the foreseeable future, Google needs to find software solutions to better monetize online ad and user data when all team members respect consumer privacy and copyright issues.
This analytic essay cannot constitute any form of financial advice, analyst opinion, recommendation, or endorsement. We refrain from engaging in financial advisory services, and we seek to offer our analytic insights into the latest economic trends, stock market topics, investment memes, personal finance tools, and other self-help inspirations. Our proprietary alpha investment algorithmic system helps enrich our AYA fintech network platform as a new social community for stock market investors: https://ayafintech.network.
We share and circulate these informative posts and essays with hyperlinks through our blogs, podcasts, emails, social media channels, and patent specifications. Our goal is to help promote better financial literacy, inclusion, and freedom of the global general public. While we make a conscious effort to optimize our global reach, this optimization retains our current focus on the American stock market.
This free ebook, AYA Analytica, shares new economic insights, investment memes, and stock portfolio strategies through both blog posts and patent specifications on our AYA fintech network platform. AYA fintech network platform is every investor's social toolkit for profitable investment management. We can help empower stock market investors through technology, education, and social integration.
We hope you enjoy the substantive content of this essay! AYA!
Andy Yeh
Chief Financial Architect (CFA) and Financial Risk Manager (FRM)
Brass Ring International Density Enterprise (BRIDE) © 2013-2023
Do you find it difficult to beat the long-term average 11% stock market return?
It took us 20+ years to design a new profitable algorithmic asset investment model and its attendant proprietary software technology with fintech patent protection in 2+ years. AYA fintech network platform serves as everyone's first aid for his or her personal stock investment portfolio. Our proprietary software technology allows each investor to leverage fintech intelligence and information without exorbitant time commitment. Our dynamic conditional alpha analysis boosts the typical win rate from 70% to 90%+.
Our new alpha model empowers members to be a wiser stock market investor with profitable alpha signals! The proprietary quantitative analysis applies the collective wisdom of Warren Buffett, George Soros, Carl Icahn, Mark Cuban, Tony Robbins, and Nobel Laureates in finance such as Robert Engle, Eugene Fama, Lars Hansen, Robert Lucas, Robert Merton, Edward Prescott, Thomas Sargent, William Sharpe, Robert Shiller, and Christopher Sims.
Follow AYA Analytica financial health memo (FHM) podcast channel on YouTube: https://www.youtube.com/channel/UCvntmnacYyCmVyQ-c_qjyyQ
Follow our Brass Ring Facebook to learn more about the latest financial news and fantastic stock investment ideas: http://www.facebook.com/brassring2013.
Free signup for stock signals: https://ayafintech.network
Mission on profitable signals: https://ayafintech.network/mission.php
Model technical descriptions: https://ayafintech.network/model.php
Blog on stock alpha signals: https://ayafintech.network/blog.php
Freemium base pricing plans: https://ayafintech.network/freemium.php
Signup for periodic updates: https://ayafintech.network/signup.php
Login for freemium benefits: https://ayafintech.network/login.php