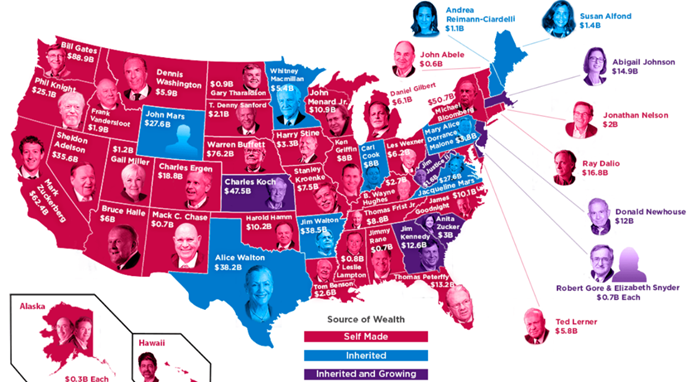 In American states, all of the Top 4 richest people are self-made billionaires: Bill Gates in Washington, Warren Buffett in Nebraska, Michael Bloomberg in New York, and Mark Zuckerberg in California. Indeed, all of these billionaires are great fundamental investors too.
Through Berkshire Hathaway, Buffett invests in finance, energy, transportation, technology, retail service, and so forth.
Gates invests in Microsoft, software technology, cloud service provision, as well as philanthropy.
Zuckerberg invests in building Facebook as the world's largest social network with more than 2 billion active users.
Bloomberg invests in financial data delivery and media service with worldwide fame and ubiquity.
This infographic visualization does not include several other famous self-made billionaires, entrepreneurs, financiers, and investors such as Jeff Bezos, Tim Cook, Mark Cuban, and Larry Page.