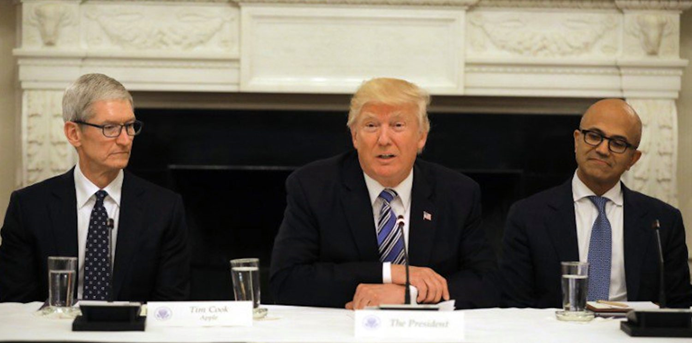 President Donald Trump has discussed with the CEOs of large multinational corporations such as Apple, Microsoft, Google, and Amazon. This discussion includes Apple CEO Tim Cook, Amazon CEO Jeff Bezos, Palantir CEO Alex Karp, and many more. Trump calls for a sweeping transformation of the U.S. government's IT infrastructure to catch up with the private sector.
Apple CEO Tim Cook suggests that the government can embed the essential programming tools and skills in standard school curriculum in order to promote better cybersecurity, encryption, and smart data analysis.
The corporate leaders affirm and welcome the Trump tax incentive plan to boost U.S. economic output, employment, and stock market performance. FAMGA can then repatriate their abundant offshore cash stockpiles to invest in strategic mergers and acquisitions of small tech startups with proprietary technologies to complement FAMGA's extant platforms, networks, and algorithms.
In recent years, we have seen several strategic tech-savvy acquisitions: Apple acquires Anobit and AuthenTec; Amazon acquires Zappos, Kiva Systems, and Whole Foods; Google acquires YouTube, Motorola, and DeepMind; Facebook acquires WhatsApp, Instagram, and Oculus; Microsoft acquires Genee, Skype, LinkedIn, Solair, and Datazen etc. This tech trend continues as FAMGA keeps its dominant position in the markets for mobile technologies, software solutions, and cloud services.