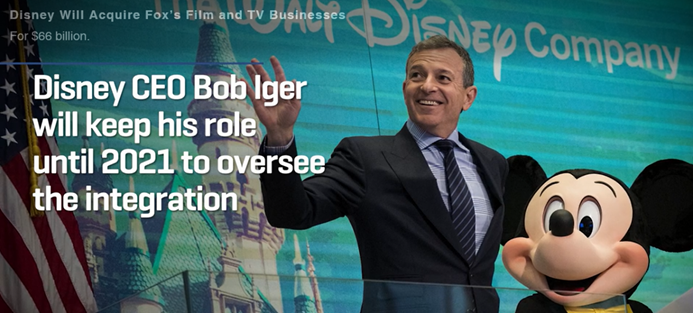 Disney acquires 21st Century Fox in a $52 billion landmark deal. This deal has a total value of about $66 billion while Disney assumes $14 billion of Fox's net debt. Bob Iger will remain Disney's CEO and key chairman to oversee this mega media integration until December 2021. In fact, the resultant Disney-Fox M&A deal will give Disney more media content when Disney launches its own video streaming service on demand.
The Economist suggests that as the Mouse acquires the Fox, this mega media deal will accelerate Hollywood's modern transformation from a film capital to a video streaming service town. Disney's ambitious acquisition of Fox and its own affiliates remains subject to approval by their shareholders and regulators, and this acquisition combines Disney and Fox as powerful film studios. Franchises such as Avatar and X-Men will join Disney's formidable library of Marvel titles, Pixar animation hits, and Star Wars films. In addition, Disney gains dozens of cable networks to add to its own collection, as well as Fox's equity stake in Sky, a European satellite broadcaster.
CNBC and CNN both report that if U.S. antitrust laws approve this mega media deal, it means stiffer competition for video streaming service providers such as Netflix, Amazon, and YouTube. As a consequence, film viewers and consumers benefit much from better content distribution and scale in this broad horizontal consolidation across the media industry landscape.