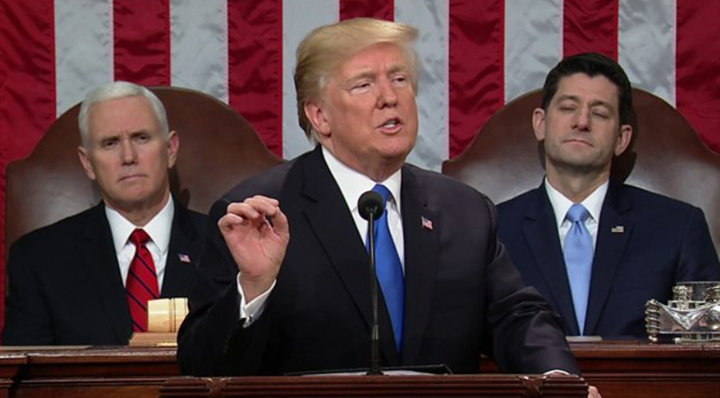 President Donald Trump delivers his first state-of-the-union address. Several key highlights touch on economic issues from fiscal stimulus and trade protectionism to infrastructure, immigration, and social security. The hefty Trump tax cuts provide tremendous relief for the middle-class Americans and small businesses. About 3 million American workers receive tax incentives primarily due to this legislative win for the Trump administration and Republican-driven Congress.
When the U.S. Trade Act Section 301 investigation concludes in due course, the Trump administration expects to escalate tariffs, quotas, and even embargoes on Chinese imports. These tariffs and other trade barriers effectively penalize China for perennial patent, trademark, and copyright infringement and other intellectual property theft. This trade protectionism helps eradicate hefty U.S. trade deficits to the detriment of China and western allies such as Canada, Europe, and Mexico.
Trump now urges Congress to pass fresh legislation to replenish $1.5 trillion U.S. modern infrastructure with new roads, bridges, highways, railways, and waterways. Also, the Trump administration designs new immigration policies with better border control to circumvent drugs, gangs, and other criminal activities that plaque many U.S. immigrant communities.
Finally, President Trump now considers foreign investment restrictions in defense of national security from LTE broadband technology to 5G telecommunication. All these economic reforms help ensure sustainable economic prosperity in America.