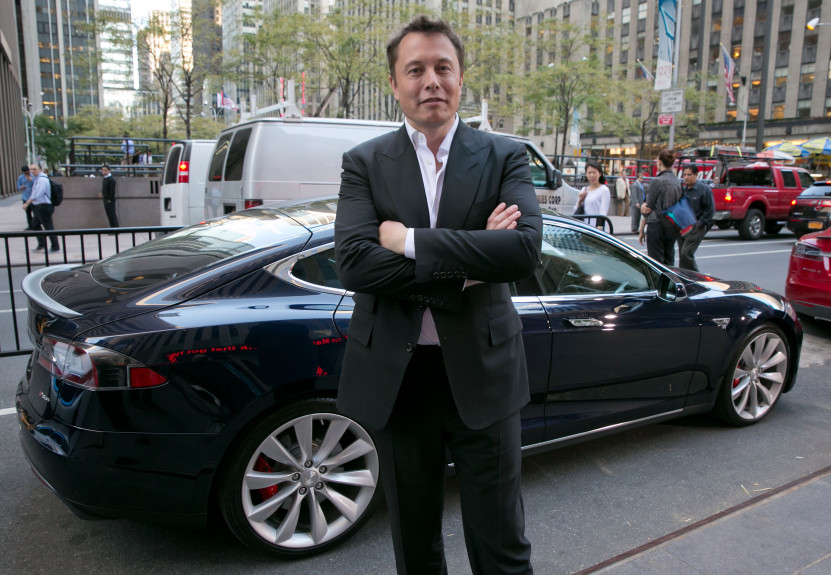 Elon Musk envisions a bold fantastic future with his professional trifecta of lean startup enterprises SolarCity, SpaceX, and Tesla.
Ashlee Vance (2015)
Elon Musk: Tesla, SpaceX, and the quest for a fantastic future
In this book, the author Ashlee Vance illuminates the full arc and spectacle of Elon Musk's personal life and professional work, from his tumultuous childhood in South Africa and university education in America to his dramatic high-tech advances and entrepreneurial pursuits. The business story of Elon Musk empowers the reader to explore whether the modern nation of high-tech investors can thrive in the new age of fierce global competition. Vance portrays Elon Musk as one of the most unusual figures in American business history, or a contemporary and visionary amalgam of legendary inventors and investors from Thomas Edison and Henry Ford to Howard Hughes and Steve Jobs. Elon Musk serves as a great inspiration for many startup founders and entrepreneurs worldwide primarily due to:
his bold business vision for a fantastic future;
the positive effect of his childhood and education on the professional trifecta of SolarCity, SpaceX, and Tesla;
his flexible implementation of lean startup methods with iterative continuous improvements in corporate development; and
his rare but invaluable experience of both professional and personal crises.
Musk childhood and college education had a positive effect on his life and work.
Elon Musk was born in South Africa. When he was 17 years old, he left for Canada due to family reasons. Musk enjoyed reading non-fiction books and often corrected others in a rather abrasive manner. These traits complemented his masculine and athletic behaviors in high school. Musk became known for his intense competitive nature. In 1992, Musk decided to transfer to the University of Pennsylvania where he later completed dual degrees in economics and physics. Musk maintained an active interest in solar power, and he became quite skillful at articulating complex concepts in physics through coherent business plans.
In 1995, Elon Musk and his brother Kimbal built Global Link Information Network with a searchable online directory of both businesses and maps in Silicon Valley. The Musk brothers sold this service door-to-door to small-to-medium enterprises. When Global Link Information Network received new venture capital funds in 1996, Elon Musk renamed the company as Zip2. The Zip2 service business took off, and Musk resented giving up control and ownership of the lean company. In February 1999, Compaq Computer acquired Zip2 for more than $300 million. Elon Musk had to move onto his next project(s). Meanwhile, Musk learned that he should maintain both his control and ownership of future ventures to serve as both CEO and Chair. At any rate, the successful sale of Zip2 made Elon Musk a rich man and so infused him with a new brand of confidence.
In 1999, Elon Musk launched X.com as a new online full-service financial institution. He jumped on the bank bandwagon to exploit financial market inefficiencies via the Internet. The regulatory requirements for banks turned out to be a major corporate hurdle. Several months after the launch of X.com, many employees chose to leave in discouragement and disappointment. Musk decided to persevere in this difficult situation, however, and he eventually obtained sufficient venture capital funds for X.com to get U.S. licenses for banks and mutual funds in close collaboration with the British multinational investment bank and financial service provider Barclays. By November 1999, the online bank X.com became fully operational.
Elon Musk skillfully persuaded the co-founders and shareholders of an email-web payment service provider Confinity to seal a mutual merger deal with X.com. Musk became the largest shareholder of the new organization under the PayPal brand. As numerous unforeseen crises developed over time, Musk had to relinquish his CEO control in a coup that took place while he was on his honeymoon. Musk chose to remain in an advisory role with hefty equity stakes in PayPal. In July 2002, eBay paid $1.5 billion for PayPal. As a serious serial entrepreneur, Elon Musk received a post-tax cash inflow of $180 million. As the PayPal mafia boss, Elon Musk made a fortune from the successful sale of PayPal. The proceeds subsequently became his substantive investments in SolarCity, SpaceX, and Tesla.
Elon Musk pursued his space mission amid sudden personal life crises.
After the PayPal sale, Elon Musk and his wife Justine moved to Los Angeles. Musk liked L.A. due to its proximity to the key space industry. Musk met with aeronautical space thought leaders and scientists on a regular basis, and he created the space organization Life to Mars Foundation. Musk chose to bootstrap the core production of rockets as he failed to buy missiles and satellites from Russia to support a space mission in a cost-effective way.
Musk founded Space Exploration Technologies (SpaceX) in 2002 in California. In a nutshell, SpaceX would build its rocket engines in a cost-effective way as Musk applied lean startup methods to iterate continuous improvements in the essential production of reliable rockets. The first rocket, Falcon 1, would carry a 1,400-pound payload for less than $7 million. This cost would be much less expensive than the $30 million price tag that people had to pay for the typical 550-pound payload.
In his personal life, Elon Musk had to cope with a tragedy. His 10-week son passed away due to the sudden infant death syndrome. His wife Justine had to pursue in-vitro fertilization treatments and then gave birth to twins and then triplets in the next 5 years. Instead of mourning the unforeseen death of his first son, Musk turned his attention to SpaceX and Tesla.
Elon Musk was ambitious enough to build electric cars with lithium ion batteries.
In the early-2000s, J.B. Straubel was unable to raise sufficient capital to build an electric car with lithium ion batteries. In 2003, Elon Musk offered Straubel $10,000 to tap into the new market for electric vehicles. Straubel showed Musk a high-end electric car that AC Propulsion had built. The demonstration sparked the notion for Elon Musk that electric cars could be aspirational for many American consumers. In July 2003, Elon Musk contributed $6.5 million to become the largest shareholder and executive chairman of the new company Tesla Motors that specialized in the lean production of electric cars with lithium ion batteries.
Tesla planned to deliver its first electric car Roadster for only $90,000 to American consumers in early-2006. Musk learned the primary technical challenge that each Roadster could cost as much as $200,000 even in lean production. CEO turnover was high at Tesla, and the company was about to run out of money in early-2008.
Elon Musk suffered the pains of both divorce and rocket crises before his revival.
Elon Musk established his reputation as a tech-savvy entrepreneur over the years. However, his personal and business lives became tumultuous in 2007-2008. Musk started to experience a major marriage problem with his wife Justine. At the same time, both SpaceX and Tesla struggled due to capital shortfalls. Elon Musk began selling his personal property to generate cash. In June 2008, Musk filed for divorce from Justine. This heartache caused Musk to focus on his business endeavors.
Later Elon Musk traveled to London, Britain, with his close friend and investor Bill Lee. On the trip, Musk met 22-year-old U.K. actress Talulah Riley. Their courtship developed over a short time frame, and Musk married Riley in 2010. In early-2012, Musk indicated his intention to end his 4-year relationship with Riley. Nevertheless, the couple stated their reconciliation in a 60 Minutes interview in 2014. Musk and Riley lived together again (along with the 5 Musk children from his first marriage to U.S. writer Justine Musk). In December 2014, Musk had filed for divorce again and then withdrew the action. Riley had been living separately from Musk for 6 months, and she filed for a second divorce in early-2016. L.A. Superior Court finalized their divorce in October 2016.
At SpaceX, the first few Falcon 9 rocket tests failed. Elon Musk took responsibility for these failures, and the next attempt turned out to be a key success in late-2008. Falcon 9 was the first privately-built rocket to reach orbit. Meanwhile, Musk had to borrow hundreds of thousands of dollars from friends and investors to close capital shortfalls at SpaceX and Tesla.
Elon Musk eventually achieved great progress with SpaceX and Tesla.
In May 2012, SpaceX reached its most important milestone. A Falcon 9 rocket with a Dragon capsule took off from Cape Canaveral and successfully docked with the International Space Station (ISS). SpaceX was the first private company to achieve this success. Several months later, NASA invested in SpaceX with $440 million to continue developing the Dragon capsule. In 2015, the SpaceX Falcon 9 rocket had become the space workhorse. At this stage, SpaceX became the most consistent operator in the aeronautical industry as the company started sending up one rocket per month with satellites and supplies for the ISS. For Elon Musk, the grand vision was to make reliable supply trips to Mars economical enough to support a human colony in the outer space.
SpaceX succeeded in undercutting its major competitors such as Lockheed Martin, Boeing, and Orbital Sciences etc. Musk aimed to leverage technical manufacturing advances to reduce the cost of getting both products and people to the outer space. In terms of its primary competitive advantage, SpaceX built components from most consumer electronics in-house. SpaceX ultimately became profitable in 2015-2020. As of early-2020, CNBC and Business Insider reported the fair valuation of SpaceX between $35 billion and $55 billion.
In mid-2012, Tesla started delivering its Model S sedan. This new electric car could travel more than 300 miles on one charge. Its speed could reach 60 miles per hour in only 4 seconds. Model S ran on an electric battery pack and an electric motor in the size of a watermelon. Model S continually connected to the Internet, so drivers could stream music with software download via a touch screen with Google Maps. Tesla became profitable about a year after Model S went on sale via Tesla stores and its official website. Model S required neither oil changes nor tune-ups. Further, new fixes and features were downloadable via Internet software while the electric cars were not in use. At this stage, Tesla achieved more than $2 billion in annual revenue and so became as valuable as Mazda. As with SpaceX, Elon Musk aimed to push Tesla to manufacture as many car components in-house as possible.
In June 2009, Daimler invested $50 million in exchange for a 10% equity stake in Tesla. In January 2010, the U.S. Department of Energy entered a $465 million loan agreement with the electric car company. Meanwhile, Tesla had the opportunity to purchase a manufacturing site in Fremont, California, from Toyota at a reasonable price. Tesla went public in June 2010 and then raised $226 million from its IPO.
When the Model S sedans began shipping in 2012, Tesla accumulated thousands of back orders and then started to stretch the limits of lean production capacity. It was difficult for Tesla to convert reservations to purchases too. By February 2013, Tesla experienced financial hardship. At one point, Elon Musk entertained the fair scenario where he could sell the electric car company to Google. However, Tesla delivered almost 5,000 Model S sedans and then paid off its government loan early. The putative Google acquisition was no longer necessary. As with SpaceX, Tesla went through numerous financial crises under the bold leadership of Elon Musk.
Elon Musk was able to synthesize his great passions in economics and physics.
Elon Musk kept an active interest in solar energy, and he was eager to synthesize his grasp of scientific laws with a new business opportunity. In 2006, Musk founded Solar City in close collaboration with his cousins Lyndon, Peter, and Russ Rive. In effect, SolarCity bought solar panels and further built software solutions to analyze the energy bills of business customers. Elon Musk became the biggest shareholder and chairman of SolarCity.
By 2012, SolarCity had become the largest solar panel installer in America. In 2014, SolarCity received the equity valuation of $7 billion. In the same year, the company began selling energy storage systems through a strategic partnership with Tesla. In 2016, Elon Musk merged SolarCity into Tesla so that the SolarCity panels could power Tesla electric cars with highly efficient solar panels and lithium ion batteries.
Elon Musk serves as a great inspiration for many business partners, founders, and entrepreneurs worldwide because he can combine his early childhood and college education in economics and physics into the business trifecta of SolarCity, SpaceX, and Tesla. Moreover, Musk skillfully applies the lean startup methods with iterative continual improvements in high-tech development. Finally, his rare and invaluable experience of numerous professional and personal crises helps mold the business titan into a conscientious man of self-discipline, perseverance, and hard work.
This analytic essay cannot constitute any form of financial advice, analyst opinion, recommendation, or endorsement. We refrain from engaging in financial advisory services, and we seek to offer our analytic insights into the latest economic trends, stock market topics, investment memes, personal finance tools, and other self-help inspirations. Our proprietary alpha investment algorithmic system helps enrich our AYA fintech network platform as a new social community for stock market investors: https://ayafintech.network.
We share and circulate these informative posts and essays with hyperlinks through our blogs, podcasts, emails, social media channels, and patent specifications. Our goal is to help promote better financial literacy, inclusion, and freedom of the global general public. While we make a conscious effort to optimize our global reach, this optimization retains our current focus on the American stock market.
This free ebook, AYA Analytica, shares new economic insights, investment memes, and stock portfolio strategies through both blog posts and patent specifications on our AYA fintech network platform. AYA fintech network platform is every investor's social toolkit for profitable investment management. We can help empower stock market investors through technology, education, and social integration.
We hope you enjoy the substantive content of this essay! AYA!
Andy Yeh
Chief Financial Architect (CFA) and Financial Risk Manager (FRM)
Brass Ring International Density Enterprise (BRIDE) © 2013-2023
Do you find it difficult to beat the long-term average 11% stock market return?
It took us 20+ years to design a new profitable algorithmic asset investment model and its attendant proprietary software technology with fintech patent protection in 2+ years. AYA fintech network platform serves as everyone's first aid for his or her personal stock investment portfolio. Our proprietary software technology allows each investor to leverage fintech intelligence and information without exorbitant time commitment. Our dynamic conditional alpha analysis boosts the typical win rate from 70% to 90%+.
Our new alpha model empowers members to be a wiser stock market investor with profitable alpha signals! The proprietary quantitative analysis applies the collective wisdom of Warren Buffett, George Soros, Carl Icahn, Mark Cuban, Tony Robbins, and Nobel Laureates in finance such as Robert Engle, Eugene Fama, Lars Hansen, Robert Lucas, Robert Merton, Edward Prescott, Thomas Sargent, William Sharpe, Robert Shiller, and Christopher Sims.
Follow AYA Analytica financial health memo (FHM) podcast channel on YouTube: https://www.youtube.com/channel/UCvntmnacYyCmVyQ-c_qjyyQ
Follow our Brass Ring Facebook to learn more about the latest financial news and fantastic stock investment ideas: http://www.facebook.com/brassring2013.
Free signup for stock signals: https://ayafintech.network
Mission on profitable signals: https://ayafintech.network/mission.php
Model technical descriptions: https://ayafintech.network/model.php
Blog on stock alpha signals: https://ayafintech.network/blog.php
Freemium base pricing plans: https://ayafintech.network/freemium.php
Signup for periodic updates: https://ayafintech.network/signup.php
Login for freemium benefits: https://ayafintech.network/login.php