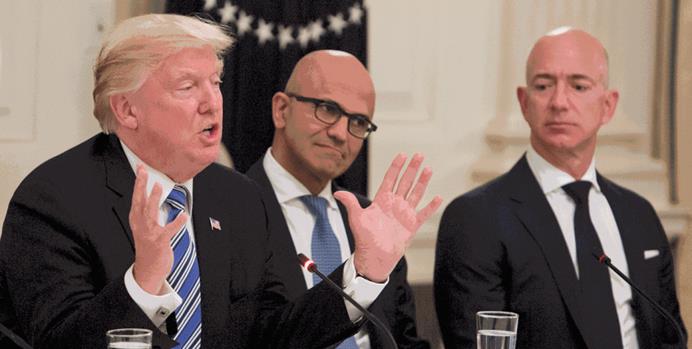 In a recent tweet, President Donald Trump criticizes Amazon over taxes and jobs. Without providing specific evidence, Trump accuses of the e-commerce retailer of hurting U.S. cities and states with job losses. Amazon's stock price declines quite a bit after this tweet. In his critique, Trump has targeted Amazon whose CEO Jeff Bezos owns the Washington Post, one of several major media outlets that have been swept up in the president's relentless fight with the press.
Now stock analysts and market observers wait for Treasury Secretary Steve Mnuchin to deliver on Trump's promise of a comprehensive fiscal overhaul with a particular emphasis on lower income taxation and special tax holiday for offshore corporate cash repatriation.
In addition to its recent acquisition of Whole Foods, Amazon can draw down its offshore cash reservoir throughout the prospective tax holiday to continue the current Trump stock market rally. The same logic also applies to several other multinational corporations such as Apple, Google, Microsoft, Facebook, Exxon Mobil, Johnson & Johnson, and so forth. Although the stock market valuation seems high with a long-term P/E ratio of 25x to 27x, the Trump stock market rally may move in tandem with the current interest rate hike as new economic data suggest robust labor market recovery and capital momentum.